I started this wonky

(block tutorial

here

)

quilt top a couple of weeks ago when my best friend, Terra, came in town for a sewing weekend

(have you ever had a sewing weekend with a friend? Up til 4 a.m. & lots of giggles, it was a blast! You can read more about the

here

).
Add caption
I am so happy to have it finished and super excited about the way it turned out, all of those Seuss characters make me smile.
One of my favorite prints.
I couldn't help but to get started on the back right away and I am just as excited about it as I am about the front!
Add caption



I don't usually buy panels but I am so glad I did this time.
Now I just need to get it quilted and binded so it can be loved by all my boys :)
I am linking this
fun quilt up to these fabulous blogs: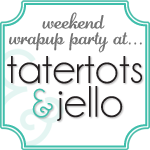 Hope your weekend is wonderful!