My littlest monster is in Kindergarten. This week his class was learning about the letter 'Qq'. Adam was eager to tell his class that 'quilt' begins with the letter 'Q' and that his Mommy makes them. I was then asked by his teacher if I had any quilts to share with the class. You would think that the obvious answer would be yes but surprisingly I don't have 1 (not 1!) finished quilt that lives in our house. Shameful, I know. I have made plenty (you can see some of them here) but I have given them all away. My poor children!!
Anyway, I knew I couldn't make a quilt in just a few days

(of course, I probably could have finished one of the 7 quilts that I have in progress. oh well)

so I decided to make a mini quilt

(or mug rug but mug rug doesn't go with 'Q' day).
Finished size 10"x 7.5"
I based it off this tutorial by Amanda Jean from Crazy Mom Quilts but cut my strips 1.5"

(I also used this fabulous tutorial to make

Adam's quilt

, which STILL isn't finished! I am such a slacker)

. Perfect size for little hands to pass around. And for fun, I sent one of my quilt tops in so the kiddos could see what all of those seams look like on the back. It will be interesting to hear what all the kids thought of them.
If you have an extra minute I recommend you check out all of the inspiration over at the blogs below.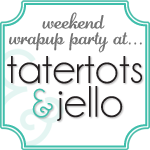 Hope you have a happy Friday!